---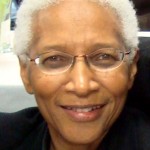 Director's Message:
There are many, many people, involved in the struggle of gaining human rights for their fellow human beings, who I am still learning about. One such civil rights 'soldier', I want to share with you in this short essay is Ms. Sadie Roberts-Joseph.
I had not known about this wonderful woman until her passing at the age of 75 on July 12, 2019.  Thanks to 'Google University', which led me to a Philadelphia Tribune article penned by Emanuella Grinberb and Darran Simon on July 17th, which led me to Wikipedia's information offering as well as an article from BlackPressUSA penned by Candace J. Semien, Jozef Syndicate reporter, The Drum Newspaper all reporting about this lady who spent her life helping others to recognize that Black History is American History and that we are all important.
Ms. Sadie Roberts-Joseph, or Ms. Sadie, as this activist and matriarch was respectfully called, founded the Odell S. Williams Now & Then African American Museum of Baton Rouge, Louisiana in 2001. The Museum is dedicated to African American Heritage. Ms. Sadie ran the museum with volunteers and grants. She filled it with items from her travels and collections that exhibited important events. She was dedicated to getting people to know the importance of knowing their history.
One of her beliefs was that "If you don't know where you come from, you don't know where you're going." She tried to spread this importance of knowing one's history especially to the young people of her community.
Ms. Sadie was the Founder of Community Against drugs and Violence. She organized Juneteenth Celebration in Baton Rouge.
According to her daughter, Dr. Angela Machen, her mother was committed to community service and excellence. Her mother's mantra was that "whatever you believe in, work hard in it. Give your dead-level best."
I would have liked to have met Ms. Sadie Roberts-Joseph. I would have loved to have had a chance to sit and have a cup of coffee with her and share ideas.
Through the blessings of newspapers and the internet, I did meet Ms. Sadie Roberts-Joseph and she has enriched my life.
Always, with love,
Della