---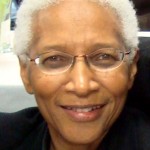 Director's Message:
Let me share with you, Dear Reader, a moment, a wonderful and safe nurturing lasting moment, that seems to happen blessedly often on the porch of the African American Center for Cultural Development. It is the same feeling we enjoy ever since our first event last year when a bunch of us guitar players got together one Sunday and jammed to our hearts content. And that same feeling continues on during our Friday lunch on the Porch every Friday from noon until one where we serve grilled hot dogs and sit and talk and enjoy each other's company and watch the Mural being painted. (Everyone is invited to join us.)
Friday July 8th was no different save that we had the delicious pleasure of a gift from our friend, Meg Saligman, the marvelously gifted and talented creator of our Heart of Olean Mural Project who had gone back to Philadelphia and brought back Philly Cheese Steaks, Philly Cheese Steaks from Gino's no less.
I took one bite of mine and immediately: "Huston, we have lift off!" right off into space. Thoroughly embarrassing my sister, Lane. It was so delicious. Philly Cheese Steak. My drug of choice. And from Gino's yet. Is it any wonder that I flew off into the outer limits? I believe I soared right on pass Voyager. Meg, I love you Lady. Another blessing awaited me when I touched back down and landed; when I finally landed (after just one bite of that delicious sandwich) I came down to a porch full of friends, old and new, who were talking visiting laughing enjoying each other's company and relaxing, oh Lord what a blessing. My heart just swelled almost to bursting.
There were so many different conversations going on about everything. How Olean has changed, what we remember. The Dragon House with the best Chinese cuisine, Welches, Rays barber shop, "Now where did he moved from", the Central Hotel, Montgomery Ward, Philadelphia Flyers, Philadelphia Eagles, Wilt Chamberlain, Dr. J, Bob Lanier, Matt Gant. I went over to the Center's neighbor and partner, JCC ground crew and invited them to join us also. Gad, it was fun.
When I think of the many negative things going on in our world today, a porch full of new and old friends all having fun just being themselves and enjoying each other without reservations of any kind, seems a bit of positive hope for all of us. And in my hearts of hearts, I cannot help but believe that more such 'Porch' experiences where human beings, regardless of whatever drama they may be facing in their own individual lives, such as this 'Porch' experience are taking place all around our world more often than we read about or hear about. And that's a good thing, Amen?
Aways, with love,
Della
---
Support The Center
The Center has established a fund at the Cattaraugus Region Community Foundation to support our fundraising goals. You can donate to the fund to support the Center by using the button below.