---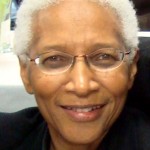 Director's Message:
This page is dedicated to our beloved board member, John Klice, who passed away on Tuesday, May 17, 2022.  We will very much miss him.  He was a gentle man, always giving of himself.  A gentle and wise giant of a human being.  Rest in Peace, John, we love you and we truly will miss you. 
This year's Olean Juneteenth Celebration will also be dedicated to John.
We will be enjoying Juneteenth this year on June 18th at the Olean Campus of Jamestown Community College.  The hours will be from 11:00 AM until 3:00 PM.  The Colored Musicians Club of Buffalo will be represented in JCC's famous Cutco Theatre, we are very excited about that. 
There will be raffles, great food, music and fun for all ages. More information on Juneteenth will be forthcoming. Save the date, you will not regret it. Of course, Covid-19 rules will be respected, for everyone's sake. We want to keep each other safe because we care.
Aways, with love,
Della
---
Support The Center
The Center has established a fund at the Cattaraugus Region Community Foundation to support our fundraising goals. You can donate to the fund to support the Center by using the button below.