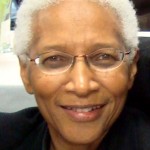 Director's Message:
Greetings,
I want to share, with you, some thoughts I had expressed to a dear friend of mine a while back concerning my 'journey' with the African American Center for Cultural Development.
"There is are points in life where you just know you are living your destiny; that you are right where you should be in this journey–when you actually hear God's voice; where you can feel His hand nudging you, guiding you through the hard work–the nay-sayers and those people who try to hold you up and pull you back, God brings you all to this, the harvest of your present season.  And lets you see all the possibilities of things yet to come. 
"I really feel that this Center will be and is a super blessing to our community.  I hear His Voice and it is awesome.  The feelings.  The struggles are so easy when I listen.  I guess I'm not alone in that regard am I? 
"Sorry, I guess I'm rambling.   Can't help it.  When I look around and see His Hand in my unworthy life, I know that this 'work in progress ' is one truly blessed soul."
 Always with love,
Della